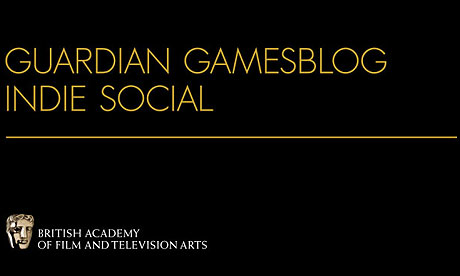 So I went to the Guardian Gamesblog Indie Social event in order to meet some indie developers and play some cool games. The event was in London at the BAFTA building (that's right!) last Saturday. For some reason, this indie event was sponsored by Capcom's Resident Evil Operation Raccoon City, one the best indie game of the year!
It was a good opportunity to meet some indie developers and discover the truth behind the indie dream. Most indie developers told me that they spent as much time on their game as on the promotion of it : "you need to take at least three months just to promote a game and do nothing else but talking about your game". I remembered that promoting Blork took a month and it was just about sending emails to many websites all around the world. The problem is to convince journalists to take time to write an article about "a small game made by students" instead of spending time on an article about a much more anticipating title. That's why "indies" spend most of their time going to events, meeting other indie meeting people, giving cards and even free copies: you just need to get a community around your games. Alistair Aitcheson (creator of Greedy Bankers) was telling me that "making the game is the easy part".
One way to compete is the birth of many platforms only for indie games like IndieCity. You can discover many Indies games that you've never heard of because "you haven't seen them on Steam". Beside all the benefits that it presents for indie developers, IndieCity seems really young and by that I mean unfinished: some obvious features are missing (social interactions) and the fact that you need to buy your game outside of the client seems really weird. However, the project is only at its beginning so we can expect more improvements in the future.
Some really cool games were presented. One of my favourite was "Greedy Bankers VS, The World". This simple puzzle game (quite similar to Columns) is also available on iPhone but you should play it on iPad for its multiplayer mode. Two players compete on the same screen and can steal each others diamonds: the game actually pushes to steal by rewarding you with more bonuses. It might not be the most original indie title, but indie games don't need to always be about "experimental gameplay": it's simple and really fun.
In the end, the real question was money. Unfortunately, all of them told me that they"were lucky for the money part". Some of them are living at their parents place; some of them just got a lot of savings. I guess there is no miracle for that, but the best advice that I heard was to get a job and work on your games during your free time. Before leaving, Alistair showed me two pills: a blue one and a red one. I took the red one because "I want to know what reality is" : Alistair called it "starvation". Hopefully, Capcom was paying for the drinks and the food : that's their way of supporting indie games!